Red Rack | Firefighter Storage
The Red Rack is a peak in fire station storage design! It achieves this with an easy installation process while having a strong steel makeup. In fact, every Red Rack has a robust powder coat finish to increase longevity. This powder coating is so strong, it withstands our 184 hour salt spray test! In addition, each locker compartment is available in 18, 20, or 24 inch widths. These features makes sure that turnout gear is safe and ready for the next call! With that in mind, let's run through why firefighters choose the Red Rack!
Firefighters choose the Red Rack because of its versatility, strength, and (of course) sleek design! Not to mention, it also offers proper airflow and UV light protection to maintain turnout gear. For this reason, Ready Rack offers a variety of hangers to assure great ventilation within the Red Rack. If extra UV protection is needed, our Gear Guard covers can also be attached to the Red Rack. Below, you will find more features, accessories, and specs for the Red Rack!
Stands up to demanding firefighting environments
Keeps PPE & equipment organized
Allows access to wall outlets
Powder coating withstands UV light
Safety and assembly guides make it easy to install
Five year limited warranty on manufacturer defect included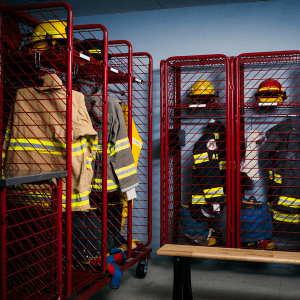 The Red Rack's design encourages customization to meet your fire department's needs! Each compartment is adjustable to fit a firefighter's specific turnout gear, helmet, boots, and gloves. It achieves this by allowing height adjustments shelves and hanging poles until it perfectly matches a set of PPE.
Additionally, the Red Rack is compatible with many helpful accessories! We mentioned the Gear Guard covers and hanger sets, but another example is our Personal Property Box! This add-on allows the rack to store small items such as keys and wallets. Every Red Rack can also have additional security added to each compartment!
If security is a concern at the station, the Red Rack has you covered there too! Every Rack has an option to upgrade to a security package that features a steel lockable door, back grid panel, and top shelf. This will give a set of Red Racks an additional layer of security, making sure everything is locked away both on and off the job!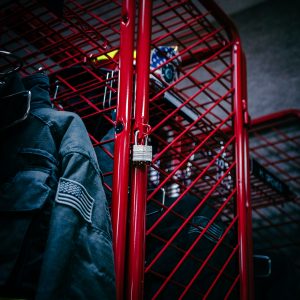 Red Rack | Configurations