SC Products | Firefighter Decon
Firefighters are in a constant battle with keeping themselves and their stations clean! As a result, Ready Rack set a goal to make decon easier for first responders. Ready Rack has partnered with SC Products in order to continue to make strides toward our common goal! In fact, we believe that SC Products sets the standard for how firefighters clean their PPE and fire station. They achieve this with the power of Citrosqueeze® and SC-14® cleaning solutions!
As a matter of fact, Citrosqueeze® is the recommended detergent for Ready Rack PPE Extractors. Like the Ready Rack Extractor 22 and 30, Citrosqueeze® is also NFPA 1851 compliant and very easy to use! When it comes cleaning the station, SC-14® is an extremely powerful surface cleaner. We suggest using it on fire department floors, diamond plating, helmets, SCBA, and more! Below, you will find more information about SC Products and where it can be found!
Citrosqueeze® | PPE Decon
Firefighters choose Citrosqueeze® to protect turnout gear while removing harmful toxins from it. Not to mention, it is NFPA 1851 compliant to make sure PPE lasts longer! Citrosqueeze® also has unique formulations for providing cleaning power without side effects on sensitive materials. These include FR fabrics, reflective tapes, metals, and pretty much anything else. In short, Citrosqueeze® keeps your gear clean without destroying it in the process!
#1 choice for cleaning PPE for over 20 years
NFPA 1851 complaint
Tested by the industry's textile suppliers
Removes oil, soot, grease, and other hydrocarbon contaminants
Near neutral pH and biodegradable
2 million+ sets of gear cleaned with ZERO incidents of damage
Available in quarts, gallons, 5 gallon pails, and 55 gallon drums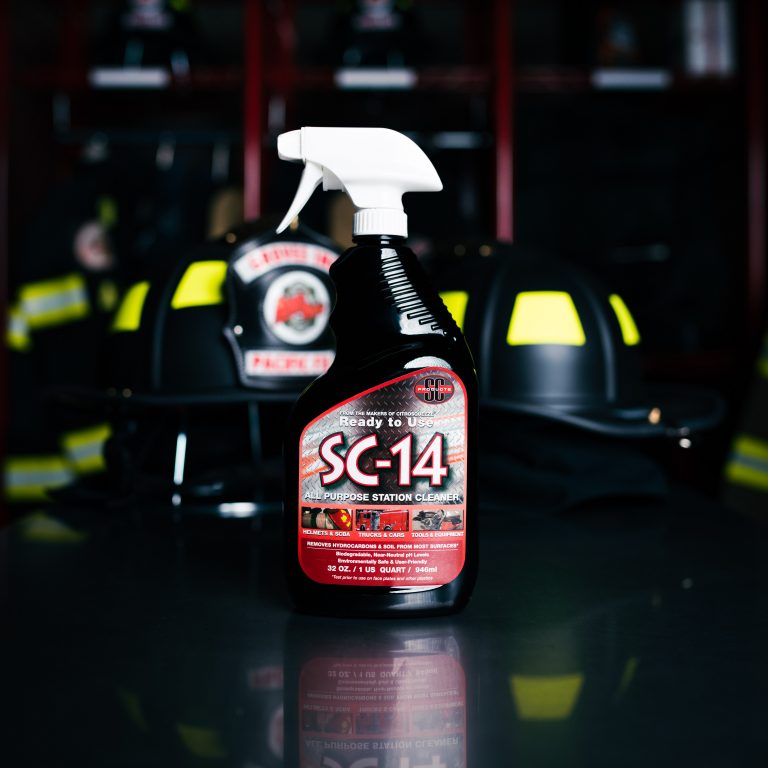 Firehouse cleaners need to be tough without leaving anything harmful behind! Many cleaners that take on oil, grease, and soot can damage team members or their PPE. For this reason, SC-14® goes above and beyond typical all-purpose cleaners. SC-14® is incredibly effective, while being safe to use on the fire apparatus, helmets, and SCBA.
Effective and versatile cleaning capabilities
User friendly, biodegradable, and non-corrosive
Removes oil, soot, grease, and other hydrocarbon contaminants
Simply wipe or rinse dirt away
Safe on sensitive surfaces like painted metals, diamond plate, and chrome
No caustic ingredients such as Sodium Hydroxide or Sodium Metasilicate
Available in quarts, gallons, 5 gallon pails, and 55 gallon drums