SC Products | Firefighting decon
Citrosqueeze® and SC-14® are two decontamination solutions from SC Products that set the standard for how firefighters should clean their PPE and fire station. Our go-to PPE detergent that we recommend with the Ready Rack Extractors is Citrosqueeze®, while SC-14® is an extremely powerful surface cleaner we suggest be used on fire department floors, diamond plating, helmets, and more!
Citrosqueeze® PPE and Turnout Gear Cleaner protects the original performance of your apparel while removing harmful carcinogens and toxins and is NFPA 1851 Compliant. Our unique formulations are designed to provide maximum cleaning power while having no adverse effect on sensitive materials like FR fabrics, reflective tapes, metals, painted surfaces, and pretty much anything else. Keep your gear, equipment, vehicles, and tools clean and healthy, without destroying it in the process.
Citrosqueeze® | PPE Cleaner
#1 choice for cleaning firefighters' PPE for over 20 years
NFPA 1851 complaint
Tested and proven safe by the industry's textile suppliers
Engineered to bond and remove oil, soot, grease, and other hydrocarbon contaminants
Near neutral pH and biodegradable
2 million+ sets of gear cleaned with ZERO incidents of damaging any apparel
Available in quarts, gallons, 5 gallon pails, and 55 gallon drums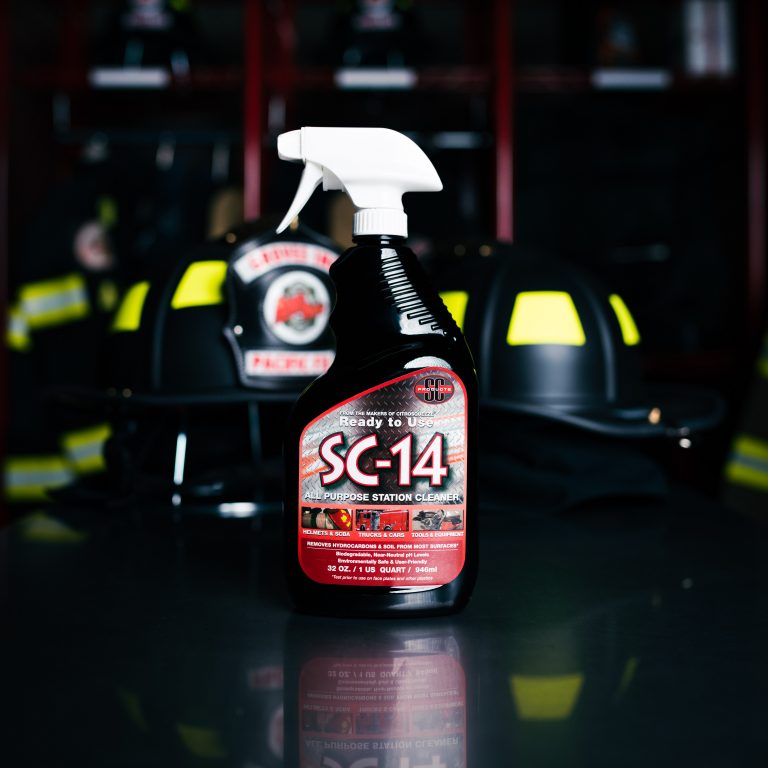 Extremely effective and versatile cleaning capabilities
User friendly, biodegradable, and non-corrosive
Engineered to bond to and remove oil, soot, grease, and other hydrocarbon contaminants
Simply wipe or rinse dirt away
Safe on sensitive surfaces such as painted metals, diamond plate, and chrome
No caustic ingredients such as Sodium Hydroxide or Sodium Metasilicate used in other common cleaners
Available in quarts, gallons, 5 gallon pails, and 55 gallon drums